Non-Surgical Spinal Decompression Great for Relieving Neck and Back Pain
Non-Surgical Spinal Decompression Great for Relieving Neck and Back Pain
Written By Eastlake Chiropractic and Massage Center on June 21, 2021
---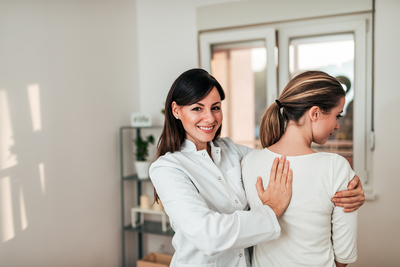 Countless studies show that non-surgical spinal decompression therapy improves pain, disability, and quality of life. On top of that, it's a painless, drug-free way to achieve lasting pain relief in both the neck and back. How does it work? By relieving pressure and promoting the body's natural healing process.
At Eastlake Chiropractic and Massage Center, we offer non-surgical spinal decompression therapy, a safe, effective and non-invasive method of helping you find true relief from neck and back pain without having to resort to drugs.
The Research On Non-Surgical Spinal Decompression
The Orthopedic Technology Review journal article "Surgical Alternatives: Spinal Decompression" published results on over 200 patients who experienced positive results in response to non-surgical spinal decompression. 86% reported immediate pain and symptom relief, and the majority reported still being pain free three months later.
A similar small study published in Anaesthesiology News reported that 52% of patients experienced 100% pain relief, and 91% went back to normal activity levels.
And this small 2017 study evaluated how effective decompression was for back pain, specifically in the spine. Patients reported a significant drop in pain levels at the end compared to the start of the study. Patients underwent 13-15 treatments to achieve quality pain relief.
Decompression's ability to relieve pressure and promote healing allows your body to correct a bulging or herniated disc and increase blood flow to the spine. Spinal discs don't get nutrients from the blood without movement. Decompression enables more nutrients to reach your discs, resutling in faster healing.
Serving Seattle for 30 Years and Counting
At Eastlake Chiropractic and Massage Center, our spinal decompression therapy involves having you lie on the Triton® spinal decompression table, a system we selected due to its ability to treat herniated discs in both the neck and the low back, prone and supine. It's a painless process and most patients notice improvement within the first week.
We are focused on providing skilled chiropractic care that incorporates the most current research findings into your personalized program of care. Our goal is still to help you get better as quickly as possible while giving you the tools to keep yourself well.
Have questions or need to schedule an appointment? Give us a call at (206) 324-8600 or go online and fill out our contact form.

Posted In: Chiropractic Back Pain Spinal Decompression